How to Advertise Your Minecraft Server
Minecraft Server Advertising Basics
Getting players to join your Minecraft server is a slow and difficult task, but there are a number of things you can do to increase your player base!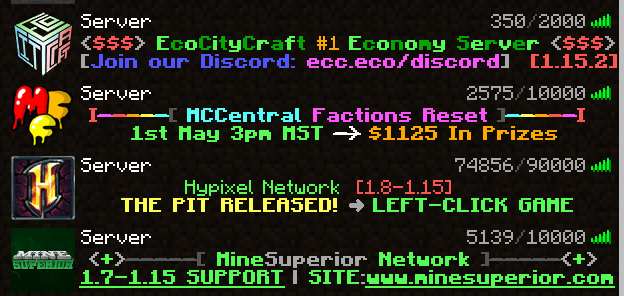 Some successful servers with thousands of players online!
But remember, these options will increase the number of players who join your server. If you want them to stay, you will need to provide a unique experience to them! Your server will be more successful if your players invite their friends.
1) Server Listing Websites
Adding your Minecraft server to a server listing website is a great way to get your server in front of players looking for new places to play. Here are some of the best server listing websites:
Most server listing websites include the option to have your players "Vote" for your server. This usually increases your server score and increases the number of people who will see your server. They often also include Votifier, a way to reward your players for voting. You can start by voting for your own server every day, but once you get players you will want them to vote as well!
2) Youtube Videos
Posting Youtube videos is a great way to get organic traffic to your server! If you know anybody with a Youtube account, get them to post a video on your server as well! Asking your players to post a video about your server is another great way to get more traffic.
Here is an example for The Mushroom Co Survival!
3) Social Media
You can use the popular social media networks to advertise your server:
Instagram
Twitter
Facebook
Youtube
On these networks, make sure you engage with your players (and potential players). Here are some suggestions for what you can post:
Featured player builds
Upcoming features
Unique server features
Server event recaps
4) Discord Server
Making a custom Discord server for your players is a great way to connect with them when they are not playing on your server. Even after they have disconnected from your Minecraft server, you can still contact them! Make custom text channels for different features on your server, as well as offtopic groups!
5) Server Website
Building forums for your server is another way to interact with your players and is a place people can check out before joining!
If you don't want to manage the code to run the website, try:
Enjin (https://www.enjin.com/) - A very easy to use forum website host, free to start but has some paid upgrades
If you want the most customization, you will have to host your own forums! Here are some of the popular ones:
6) Paid Advertising
Once you have done all the above, you can think about paid advertising. Don't throw money at a server where players don't stick around! A few options for paid advertising include:
Paying popular Youtubers to play on your server
Sponsored server listings on Minecraft Server Lists (see #1 above)
Facebook Ads
Paid Discord Ads
Check out MC-Market's Advertising Section
Be very, very careful when using these methods! You can end up losing all of the money to scammers, so make sure they can provide what they are advertising.